Stephan Huber wird mit K.U. Smith Student Paper Award ausgezeichnet
08/02/2021
Die International Ergonomics Association (IEA) zeichnete Stephan Huber bei ihrem 21st Triennial Congress für studentische Beiträge zum Feld Human Factors/Ergonomics aus.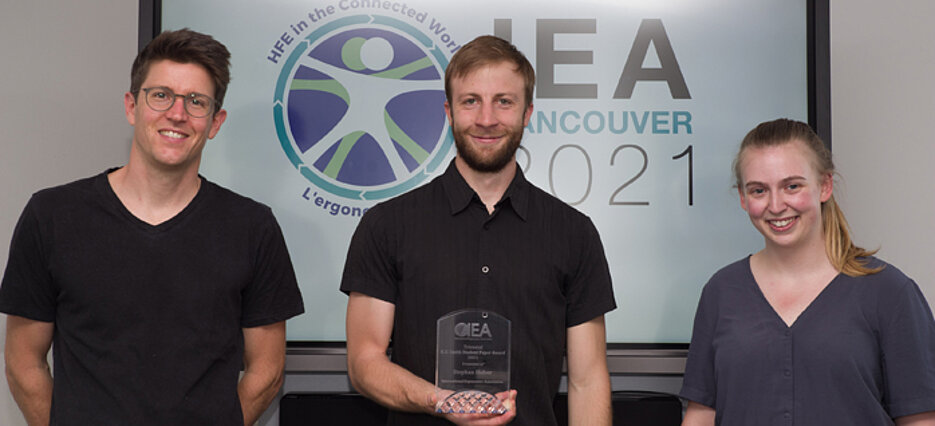 Ausgezeichnet wurde Stephan für seine Erstautorschaft in der ethnographischen Arbeit "From Paper Flight Strips to Digital Strip Systems: Changes and Similarities in Air Traffic Control Work Practices", an welcher auch Johanna Gramlich mitgewirkt hatte und die von Dr. Tobias Grundgeiger betreut wurde. Die mit 3000 $ dotierte Auszeichnung ist nach Karl Ulrich Smith benannt, einem Pionier interdisziplinärer, angewandter Forschung und einflussreicher Lehre in Human Factors/Ergonomics.
Im Rahmen einer Award Session des diesmal virtuell ausgerichteten IEA Congress übergaben Prof. Kathleen Mosier, die Präsidentin der IEA, Prof. Pascale Carayon, Vorsitzende des Award Kommitees und Dr. Thomas Smith die Auszeichnung. Weitere Preisträger waren Renee Greene und Sadeem Qureshi.
Zum Paper: https://doi.org/10.1145/3392833
Mehr über die Auszeichnungen der IEA: https://iea.cc/awards/iea-triennial-awards/
Mehr über das Leben und Wirken von K.U. Smith: http://behavioral.cybernetics.cc/index.php/karl-ulrich-smith