Movie Theater and Recording Studio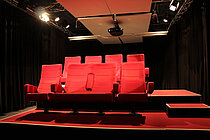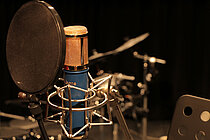 This laboratory offers two central using options. One the one hand, the movie theater is a realistic environment for presenting high quality footage under controlled conditions. On the other hand, the recording studio can be used for professionally producing audio and especially music recordings.
In the movie theater setting, the footage can consist of commercial feature films or self-produced material. In accordance with the respective questioning, the footage can be manipulated experimentally. With a high-end projector (Sony VPL-VW1000ES), the footage can be presented in a 4k-resolution on a 150-inch screen. The impact of the images is supported by a 7.2 Surround Sound (Pioneer LX85), which is perfectly matched to the showroom. Mutually, cameras, microphones and, where applicable, peripheral physiological measuring devices, which are all capable of night vision, are ready to record the reactions of the audience, so all data is available at the same time for the evaluation.
In the recording studio area bands, small ensembles or soloists are able to record their music or speeches. Audio signals are conducted into a control room with a multicore cabling. The control room is equipped with a digital mixing console (Behringer X32), which feeds the data into a computer, as well as numerous high-quality microphones (Sennheiser E609 and E935, Beyerdynamic TG150d, EV RE320), professional studio monitors (M-Audio EX66) and control elements like Ableton Push and a master keyboard. That way, recordings in the context of a seminar can be created just as auditory stimulus material for studies. The acoustically prepared room offers an optimal surrounding for comprehensive recordings. It can be adjusted individually because of the big room and the portable acoustic elements.
The Multi Station Laboratory offers six separate computer workstations as well a workstation for the researcher. The workstations are shielded from each other visually and acoustically, this way the participants can take part in the study without any distractions. Individual audio recordings can be received through headphones on each station.
The LoungeBox offers a realistic environment for media reception. In a living room atmosphere, participants are able to watch TV or play video games. Professional recording studio equipment provides the means for recording interviews. Small rounds of conversation in a natural every-day environment can take place there and also be observed and recorded at the same time. The room can also be used as a comfortable waiting area for participants in studies at other laboratories in the Center for Media Didactics. Furthermore, the LoungeBox offers a workstation for audio and video editing.