Radioforschung: Zwei Beiträge in Fachzeitschriften erschienen
06/20/2016
Zwei Beiträge von Würzburger Forschern des Arbeitsbereichs Medien- und Wirtschaftskommunikation sind in renommierten Fachzeitschriften erschienen. Es geht zum einen um die Wirkung von Musik im Radio und zum anderen darum, welche Wirkung die Persönlichkeit von Radiomoderatoren auf die Zuhörer hat.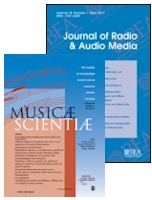 Zwei Beiträge aus Würzburg sind in "Musicae Scientiae" und dem "Journal of Radio and Audio Media" erschienen.
Die beiden Beiträge sind aus zwei zusammenhängenden Forschungsprojekten zum Thema Radio sind entstanden. Sie wurden von den Zeitschriften "Musicae Scientiae" und im "Journal of Radio and Audio Media" (vormals "Journal of Radio Studies") zur Publikation angenommen.
Im Artikel "… and please visit our Facebook page, too!" How Radio Presenter Personalities Influence Listeners' Interactions with Radio Stations widmen sich Benedikt Spangardt Nicolas Ruth und Holger Schramm der Frage, wie Parasoziale Interaktionen (PSI) mit Radiomoderatoren und das Flowerleben beim Radioerleben das Verhalten von Zuhörern beeinflussen können. Radioprogramme mit verschiedenen Moderatorinnen und Moderatoren wurden dazu den Rezipienten vorgespielt. Dabei war vor allem interessant, dass die Persönlichkeiten der Moderatoren die Parasozialen Interaktionen durchaus auf die Ausbildung von PSI und Flowerleben wirken. Diese wiederum können beeinflussen, ob und wie sehr Rezipienten zu Anschlusshandlungen in Bezug auf den Radiosender bereit sind.
Der Beitrag Alternative music playlists on the radio. Flow experience and appraisal during the reception of music radio programs geht vor allem der Frage nach, welche Einflüsse die Gestaltung der Radioplaylist und die persönlichen Hörgewohnheiten der Zuhörer auf das Hörerleben haben. Dazu wurde die musikalische Komplexität von Radio-Playlists systematisch variiert und die Wirkung der verschiedenen Playlists bei den Rezipienten überprüft. Eine zentrale Erkenntnis dabei war, dass die Radioplaylisten durchaus komplexer sein dürften, als die meisten Radiosender es momentan ihrem Publikum zumuten.
Spangardt, B., Ruth, N., & Schramm, H. (2016). "… and please visit our Facebook page, too!" How Radio Presenter Personalities Influence Listeners' Interactions with Radio Stations. Journal of Radio and Audio Media, 23, 68-94. [Online]
Ruth, N., Spangardt, B., & Schramm, H. (2016). Alternative music playlists on the radio. Flow experience and appraisal during the reception of music radio programs. Musicae Scientiae. [Online First]